I am pleased to inform you that planning for the Dedication event for the new 3(F) Squadron Memorial at the National Arboretum is progressing really well. I will provide more detail in due course, but the fundamentals remain the same in that the Dedication will take place 1300-1330 on Fri 12 May 23. The cafeteria will be open for guests to purchase refreshments where we will meet from around 1200, so there is a great opportunity to catch up with old friends before we move to the site of our new Memorial. We have a separate function room in the Aspects facility where tea/coffee will be available after the Dedication.
I would be very grateful if you plan to attend the Memorial event and haven't already done so to let Duncan Olsen (Assn Sec, address below) know that you are coming, and he will then ask you to commit the sum of £5 per family to help us cover the cost of the beverages provided.
I am also pleased to inform you that planning for the Association Dinner at the Hilton at St George's Park is at an advanced stage. This annual event has changed from our previous October timeline to allow us to meet closer to our Sqn's Anniversary in May. Again, if you wish to join the 50 people already signed up for dinner, Duncan will provide further details in his next email.
On the whole, I offer that this is shaping up to be a major event in the Sqn's history and a superb chance to celebrate the Fighting Third.
Sent on behalf of Phil Ward, 3(F) Squadron Association Chairman
Duncan Olsen, Hon Sec
Memorial Gathering
As mentioned elsewhere, the new Memorial will be dedicated on 12th May 2023 at the National Memorial Arboretum near Burton-on-Trent Staffs. Notices will be sent out to members advising on attendance.
Teams Meeting
There will be a Microsoft Teams meeting on Wednesday 24th November hosted by the President. Watch out for emails giving details.
Association Annual Reunion 2021
The Association annual reunion is resuming again this year. It will be held at The Barnsdale Lodge hotel Oakham The Avenue, Oakham, LE15 8AH Phone 01572 724678 (ask for Steff or Emmy) on Friday 22nd October 2021, with the AGM taking place the next day. Bookings are being taken, costs are: standard B&B £99, superior £119 for the Friday night on a group booking, plus the cost of the Friday evening meal.
Zoom Meeting
The next Zoom meeting will be on 4th February 2021 at 19:00hrs and will feature Roland White talking about his Harrier experiences. All members are urged to sign in to the Zoom meeting to make it a bumper turn out. The link to access the Zoom is:
Join Zoom Meeting
https://us02web.zoom.us/j/89571300606?pwd=K1BQN2t3NEJUaThDbC8rc2dHWHF5UT09
Meeting ID: 895 7130 0606
Passcode: 325705
Please note: You do NOT need the Zoom app on your phone/tablet
2020 Reunion
As everyone knows there was no reunion this year, hopefully, we can get back to normal next year.
Sonic booms heard as RAF scrambles Typhoons
(with thanks to the BBC)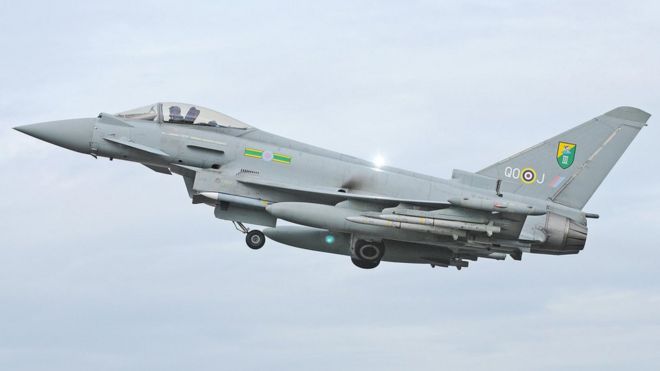 Loud bangs heard in parts of Yorkshire were sonic booms from Typhoon jets scrambled to identify "an unresponsive civilian aircraft", the RAF has said.
The aircraft were launched from RAF Coningsby, in Lincolnshire, on Monday and helped guide an Air France plane to a safe landing in Newcastle. People reported their houses shaking at about 21:50 BST after hearing what sounded like two loud explosions.These were later confirmed to have been sonic booms. An RAF spokesman said: "Quick reaction alert Typhoon aircraft were launched today from RAF Coningsby to identify an unresponsive civilian aircraft.
"Communications were re-established and the aircraft has been safely landed."
Radio problem
Reports suggested the jets had escorted the plane after it went off course. Air France confirmed that the unresponsive civilian aircraft was one of its planes. The airline tweeted from its official UK Twitter account: "Air France confirms that due to a radio communication problem AF 1558 had to be accompanied by two British fighter aircrafts according to the procedure. "The aircraft landed in Newcastle at 22:20 (LT). Safety of clients & crew is an absolute priority."
North Yorkshire Police had tweeted to reassure people there was no danger, later writing: "Confirmation from RAF that loud bangs heard across the county were sonic booms from RAF Typhoon jets. No cause for concern."
One woman wrote: "house shook & whole street was out, car & house alarms gone off. Apparently was a sonic boom".
Ed's Note: And that noise is the sound of freedom.
(With thanks to Wikipedia)